Sometimes you may have orders that you no longer require and you want to cancel. We have 3 easy steps to show you how to cancel these orders.
*Please remember you cannot cancel a 'manifested' order using Scurri. You will need to contact the carrier or your partner directly.
Bulk Cancel
Cancel from dashboard
Open the order and cancel
Step 1. Tick the box for the orders you want to cancel. Select Cancel in the drop down menu and then Apply.
Step 2. Move your mouse over the order you want to select, the option Print, Edit and Cancel will appear. Select Cancel.
Step 3. Select the order number, this will bring to you a new page. Simply select Cancel in this page.
With all these steps you will need to confirm you are happy to cancel the order and that's it.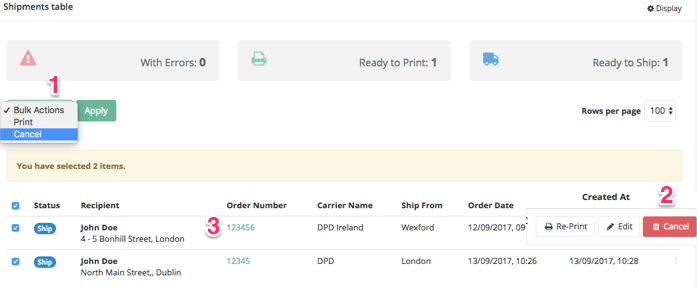 If you have any questions please contact support@scurri.co.uk