After you print your labels, the next stage is creating the manifest. Creating the manifest allows you to get the full list of parcels you will need to give to the carrier on collection. Follow these 3 steps to manifest your shipments. 

*Remember, once you have manifested shipments they can no longer be edited or cancelled. They are now marked as ready for collection. 
Mark as shipped

Select some as shipped

Automanifest 
Step 1. Select the ship option from the drop down menu on the dashboard. You will see the orders that are now ready to manifest. To manifest all the shipments select Mark as shipped from the Action drop down menu.
If you are shipping with more than one carrier you will be required to select the carrier you want to manifest with. These will need to be done individually. 
Step 2. If you do not want to manifest all your shipments but want to manifest specific shipments then chose the option Select some to mark as shipped.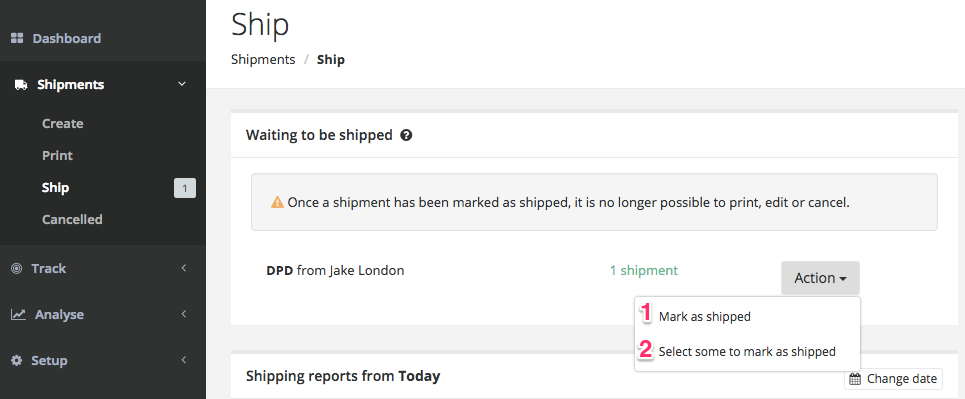 *Note you can also view which orders are ready to be manifested when you click into ie. 1 shipment which is displayed above.

Step 3. To enable Automanifest on your account you will need to go to Set up then Company Setup in the drop down menu on your dashboard. Next select Warehouses where you will see the option to Set Cut Off Times in right corner of the screen. 

Once you select Set Cut Off Times you will then be able to choose which carriers you want to automanifest or simply you can select them all. 


*Some Carriers may reject a manifest if all of the parcels are not included on it, or if there are some that are missing. 

And that's it your manifest is created. To view your newly created manifest, go to Ship in the drop down menu on the dashboard click on the manifest you want to see. 

If you have any questions contact support@scurri.co.uk