In a few simple steps, you can have your Brightpearl account connected with Scurri.
Below is a guide on how to enable your Brightpearl account to connect with Scurri.
Firstly you need to your Brightpearl account in your Brightpearl app store.
1. Log in to your Brightpearl Store.
2. Click "App Store"

3. Scroll down and click "Turn on Scurri" When you do, it will appear like this: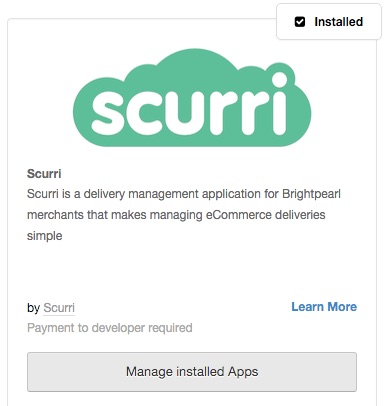 That's it, as soon as you press that button, Scurri will receive the information.
Please then provide us the below information in an e-mail once you have installed the app.
An email address used to login to your Brightpearl account
Weight Unit used, i.e Kgs, Grams or Oz
The event on which you require Brightpearl to trigger the Goods out note into Scurri on- this can be either Printed or Packed
Orders in Brightpearl will update to a Shipped status upon manifesting in Scurri.
Please contact us for more information at support@scurri.com