How will orders be imported to Scurri
Scurri imports Goods Out Notes from Brightpearl when you mark them as either Picked or Packed. This sends a notification to Scurri that there is GON ready to import and we will pull that GON into Scurri as a consignment, check your shipment rules and allocate that consignment to your preferred carrier and service with no need for manual intervention.
When you manifest at the end of the day, Scurri will update the GONs in Brightpearl to include their relevant tracking number and Carrier/Service used, and mark them as one of the following: unpicked, unpacked, unprinted, picked, printed, packed, or shipped.
There are two parts to the Scurri integration with Brightpearl. The first part is within Brightpearl, which you will do, and the second part is a configuration within Scurri, which we will do.
Brightpearl Setup
Log in to your Brightpearl Store.
Click "App Store" in the top right.
Scroll down until you see the Scurri app and click "Turn on Scurri" When you do, it will appear like this: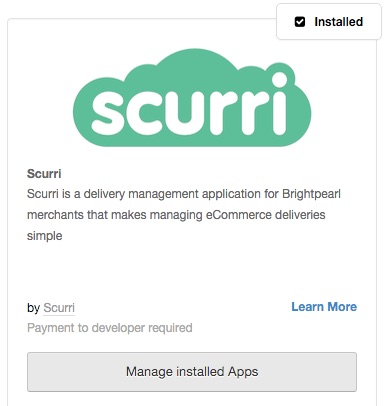 This sends a notification to Scurri that there is a new Brightpearl account to configure.
Please contact us with the below information on support@scurri.com so that we can complete the configuration from our side.
An email address used to login to your Brightpearl account
Weight Unit used: either KGs, Grams, or Oz
The Status on which you require Brightpearl to trigger the GON to be imported Scurri: either Printed or Packed
The Status you want Scurri to set on your Goods Out Notes when you manifest at the end of the day from the following options:

unpicked
unpacked
unprinted
picked
printed
packed
shipped
When you manifest at the end of the day, we will set the GONs to the specified Status and add the carrier/service combination as the Shipping Method on your GON. If you do not have a matching Shipping Method in your BP account, we will create one automatically. You will need to check these when testing to ensure any mapping that needs to be updated on your side is done so prior to going live, especially in terms of tracking updates going out to your customers via other platforms such as Shopify / Magento etc.