Overview
Shipment Rules are used to automatically assign imported orders to specific carriers, services and enhancements. The imported orders contain conditions or criteria which can be used to determine which service/enhancements should be chosen.
This guide is also available as a PDF download at the bottom of the article
Creating a New Shipment Rule
From the Dashboard click Setup.
Then select Automation.
Then click Shipment Rules.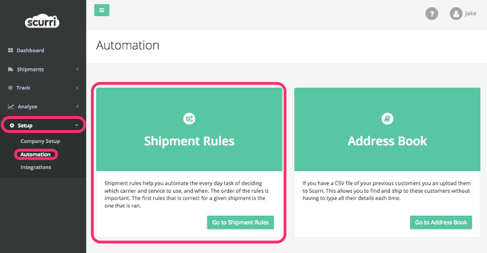 You can create a new rule by clicking + Add a rule.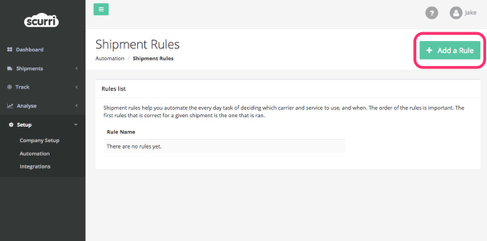 Whether you create a new rule or edit an existing rule, you will see the screen below.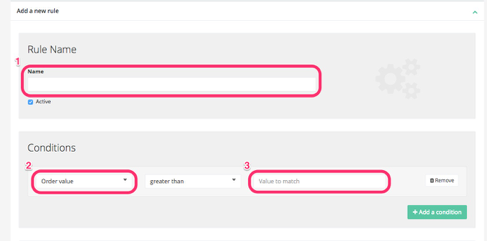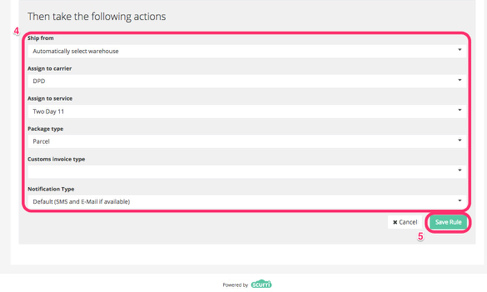 The Name field allows you to name your rule.
This is a drop-down field which specifies the first condition of the rule. (E.g. Order value)
This field holds the value condition of the rule. (E.g. 20)
These fields allows you to specify the actions of the rule. (E.g. if Order value is greater than 20, ship with carrier DPD using the 2 Day service with package type Parcel)*
This button once clicked will save your new rule against your account.
*Ship From
This action will be used differently for UI users and API users.
Scurri UI Users
Ship from can be used to send the shipment from one of your other warehouses or to use the one specified in the imported shipment. You could have a case where all orders triggering a particular rule are labelled with a Ship from address different to the address the order is actually shipped from.
API Users
This option selects the warehouse as set by the user e.g. in the API you have to specify a warehouse. Selecting Automatically select warehouse will cause the rule to use the warehouse specified by the shipment
All API integrations must specify a warehouse so selecting Automatically select warehouse will leave the warehouse unchanged.
Some API integrations use this option for special cases.
Example
Store A uses the rules to say something along the lines "all shipments that go to Germany should use the German warehouse", so that they do not need to have that logic in their warehouse software. In their case, they may send the parcel from their UK warehouse but they want the "Ship from" part to be the German warehouse.
Note
More options will be displayed depending on the carrier or service selected. For the purposes of the example, a standard service has been selected.
Numeric checks against rule values
In the case where numeric values are used in a rule, the following checks can be used
equals to
lower than
greater than
is not equal to
lower than or equal to
greater than or equal to

Is in, Equals to, Contains
In the case of lists where you want an exact value to match one of the values in the list , use 'Is In'
e.g Ship to Country 'is in' Germany, Spain, France.
'is not in' can be used to exclude items from being shipped by the chosen carrier and service.

To match an to exact value, use 'equals to'
e.g Order Shipment Method 'equals to' Scurri Next Day Delivery
'is not equal to' can be used to exclude items from being shipped by the chosen carrier and service.

To match to a partial value, use 'contains'
e.g Order Shipment Method 'contains' Free
In this case, all order shipment methods with the word 'Free' will trigger this rule.

or
Item name 'contains' gloves 
All stock with 'gloves' in the item name will trigger the rule.
'does not contain' can be used to exclude items from being shipped by the chosen carrier and service.

Rule Priority
The order in which you have your rules can be very important, due to how shipments interact with them when they are imported.
When a shipment is imported Scurri will look at the first rule and if the shipment matches all the conditions in this rule, it will assign to the carrier and service specified in the rule. If the shipment does not match all the conditions in the first rule, it will move on to the second rule, and so on.
To change the priority of a rule, simply drag and drop the rule to move it up or down.
Wildcards
You can use starts with / ends with / contains. To do this add an asterisk to the value in the rule.
Examples
Postcode starts with - Postcode 'is in' BT*

SKU ends with - SKU 'is in' *6000

SKU contains *GLA*

Multiple values per rule
You can have a list of comma-separated values for cases where you want a rule to apply to a wider range of conditions. An example of this is where you want to set up a shipment rule to send to multiple postcodes. This can be set up as follows:
Postcode 'is in' GU14AF, BA111PT, LS16LQ
Note:
A comma must be placed directly after the value e.g. GU14AF, BA111PT, LS16LQ etc. The space after the comma is optional so this list could also be entered like so GU14AF,BA111PT,LS16LQ

Do not add a space before the comma unless you want to match values which contain a space in that position.
Highlands & Islands of Scotland
Certain regions and islands of the UK are not included in some Next Day Delivery service so stores create rules to route deliveries in these postcodes via Two Day service. Please see the list of these regions below in the appendices.
Activate/Deactivate Rules
Rules can be set to active/inactive by ticking the Active checkbox. The rule is active when the box is ticked.
Examples of Popular Rules:
Ship based on Shipment Method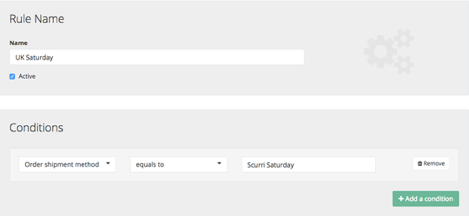 In this rule, the warehouse manager has a particular shipping method in their eCommerce platform called Scurri Saturday that is used to identify shipments that will be sent using a Saturday service.
Note:
If you are a Channel Advisor user, your shipment methods may be displayed as "Royal Mail - Next Day" within Channel Advisor. When orders are imported by Scurri, the hyphen is dropped so when you create your rule, make sure that this is not included e.g. Order shipment method equals to "Royal Mail Next Day".
Shipment Weight Rule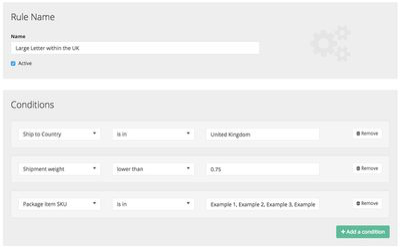 This rule says: if the shipment is going to the UK and the overall shipment weight is less than 0.75 and the package contains one of the product codes in the list:
Send with X carrier, using X service in a large envelope.
Ship to a list of specific countries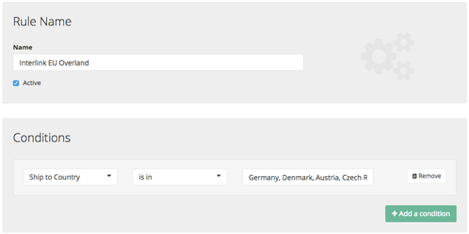 This rule says: If the shipment is going to this list of countries, route it via the selected service.
It's also possible to use a 2 letter code for the countries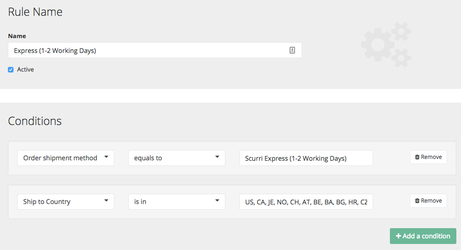 Ship to State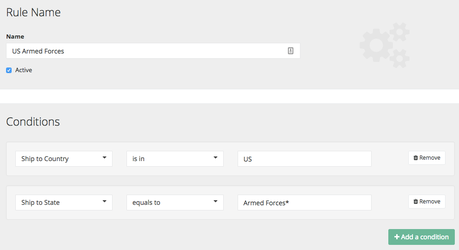 This warehouse manager uses the Ship to State option to route its US Armed Forces shipments using a particular service. This could also be a geographic state Like New York, Florida etc.
Other options around shipping to particular addresses include Recipient Name, Recipient Email, Recipient Phone Number, Ship to Address Line 1, Ship to Address Line 2, Ship to Address Line 3, Ship to City. This means that it is possible to create a rule to ship items to a particular individual/street/city based on these criteria.
Northern Ireland Postcode Rule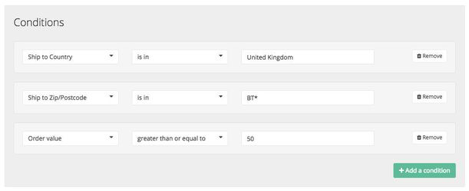 This rule says, if the shipment is going to the UK and the postcode begins with BT (i.e. Northern Ireland) and the order value is greater than or equal to £50,
Then you can send with a specific carrier and service. You will notice the use of * here. This is the wildcard which is uses in Scurri. All orders starting with BT will trigger this rule.
Ship to the Scottish Highlands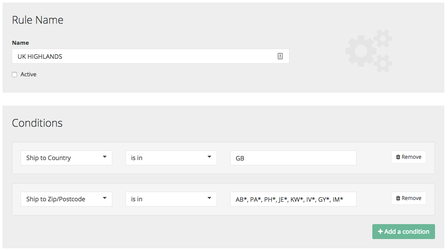 In this rule, a warehouse manager is identifying orders being sent to Scottish Highland regions by the Ship to Country and Postcode. Some express services will not deliver to these regions so particular services may need to be chosen to ensure delivery. Again, the wildcard is used here to catch postcodes starting with those letters.
Channel Islands, UK Offshore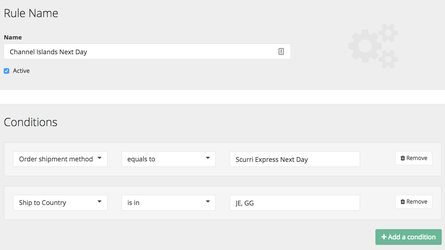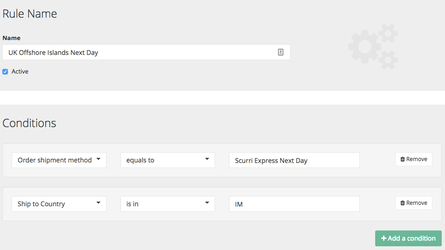 In the rules above, the store has setup rules to route Channel Island orders and UK Offshore orders on next day services that can be used for these destinations. The 2 letter country code is used in both examples but island names could also be used.

Ship based on Item SKU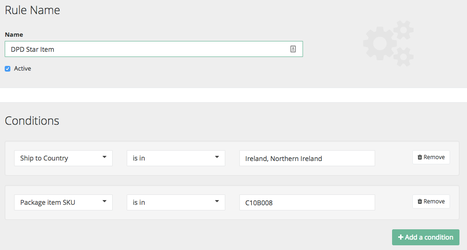 This rule ships a particular item of stock by a chosen carrier and service.
Ship based on Order Value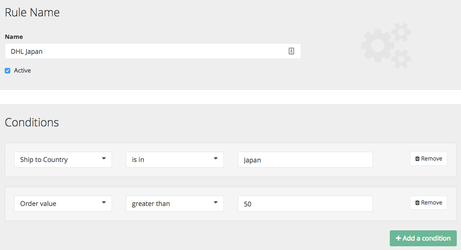 In this rule, shipments going to Japan that exceed £50 will be sent with a chosen carrier and service. 
Note: There is no need to put the currency symbol into the rule ($,£,€). This is sourced from your Scurri account or directly from the import from your eCommerce platform.
Ship based on Item Name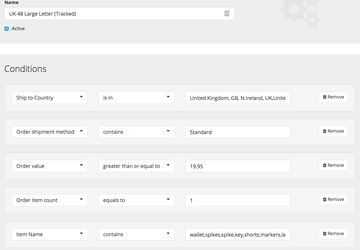 In this rule, the store carriers a variety of wallets, shorts etc that can be shipped in a particular parcel type. This rule will be triggered when all the below conditions are met:
The Item Name in the order matches a word in the list
There is only 1 item in the total order
The item is shipping using a method containing the word "Standard"
The country is one of the ones in the list e.g UK, GB, NI etc
The order value is greater or equal to 19.95
Ship based on Package Type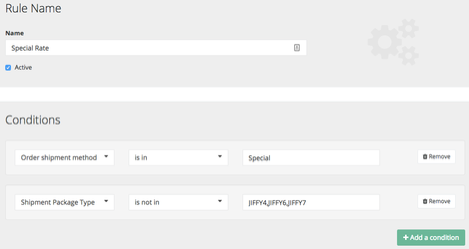 In this rule, the store is shipping all package types using a particular service except for package types in the list in this rule (Jiffy4, Jiffy6, Jiffy7)
Ship based on Package Count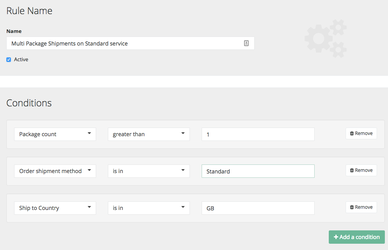 In this rule, the store is sending all orders that have more than 1 parcel using a particular service.
Rules using Custom Fields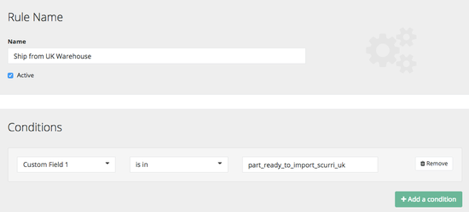 In this rule, the store has already defined Custom Field 1 as the status field in their Magento setup page. Any shipment containing "part_ready_to_import_scurri_uk" in the status field will be shipped using the selected service and carrier.
Shipment Import Day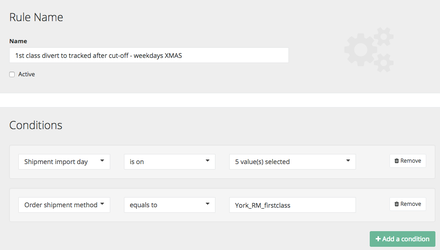 In this rule, the store wished to route orders imported on weekdays using Shipment Import Day via a certain carrier and service. The store may only activate this rule temporarily over the Christmas period for example.

Shipment Import Time

In this rule, the store wants to ship all orders imported before or at 15:30 via a certain service.
For this condition it is important to remember that you must use 24hr time format, and time of creation is obtained and stored in UTC. You will need to keep in mind Daylight Savings changes with this.
Appendices
Common Country Shipping Rule Selections:
The file attached at the bottom of the page, "Scurri-Short Codes", contains the below short codes in an easy format you can quickly copy and paste into your rule condition.

EU:
Full names:
Ireland, Germany, France, Netherlands, Austria, Belgium, Cyprus, Czech Republic, Denmark, Estonia, Finland, Greece, Hungary, Italy, Latvia, Lithuania, Luxembourg, Malta, Poland, Portugal, Romania, Slovenia, Spain, Sweden
Short Codes:
IE, DE, FR, NL, AT, BE, CY, CZ, DK, EE, FI, GR, HU, IT, LV, LT, LU, MT, PL, PT, RO, SI, ES, SE
Rest of World:
Full Names:
Afghanistan, Albania, Algeria, American Samoa, Andorra, Angola, Anguilla, Antigua and Barbuda, Argentina, Aruba, Australia, Bahamas, Bahrain, Banglades, Barbados, Belize, Benin, Bermuda, Bhutan, Bolivia, Botswana, Bouvet Island, Brazil, British Indian O. Terr., British Virgin Islands, Brunei Darussalam, Bulgaria, Burkina Faso, Burundi, Cambodia, Cameroon, Canada, Cape Verde, Cayman Islands, Central African Rep., Chad, Chile, China, Christmas Island, Cocos Keeling Islands, Colombia, Comoros, Congo, Cook Islands, Costa Rica, Croatia, Cuba, Djibouti, Dominica, Dominican Republic, East Timor, Ecuador, Egypt, El Salvador, Ethiopia, Falkland Isl., Faroe Islands, Fiji, French Guiana, French Southern Terr., Gabon, Gambia, Ghana, Gibraltar, Greenland, Grenada, Guadeloupe, Guam, Guatemala, Guinea, Guinea Bissau, Guyana, Haiti, Heard and McDonald Isl., Honduras, Hong Kong, Iceland, India, Indonesia, Iran, Iraq, Israel, Ivory Coast, Jamaica, Japan, Jordan, Kazakhstan, Kenya, Kiribati, Kosovo, Kuwait, Laos, Lebanon, Liberia, Libya, Liechtenstein, Macau, Madagascar, Malawi, Malaysia, Maldives, Martinique, Mauritania, Mauritius, Mayotte, Mexico, Micronesia, Monaco, Mongolia, Montenegro, Montserrat, Morocco, Mozambique, Myanmar, Namibia, Naura, Nepal, Netherland Antilles, New Zealand, Nicaragua, Niger, Nigeria, Niue, Norfolk Island, North Korea, Norway, Oman, Pakistan, Palau, Panama, Papua New Guinea, Paraguay, Peru, Philippines, Pitcairn, Puerto Rico, Qatar, Reunion, Russian Federation, Saint Lucia, Saint Pierre and Miquelon, San Marino, Saudi Arabia, Senegal, Seychelles, Sierra Leone, Singapore, Slovakia, Solomon Islands, Somalia, South Africa, South Korea, Sri Lanka, St. Helen, St. Tome and Principe, St. Kitts Nevis Anguilla, St. Vincent and Grenadines, Sudan, Suriname, Svalbard and Jan Mayen Isl., Swaziland, Switzerland, Syria, Taiwan, Tanzania, Thailand, Togo, Tokelau, Tonga, Trinidad and Tobago, Tunisia, Turkey, Turks and Caicos Islands, Tuvalu, Uganda, Ukraine, United Arab Emirates, United States, Uruguay, US Minor outlying Isl., US Virgin Islands, Vanuatu, Vietnam, Western Sahara, Western Samoa, Yugoslavia, Zambia, Zimbabwe,
Short Codes:
AF, AL, DZ, AS, AD, AO, AI, AQ, AG, AR, AM, AW, AU, AZ, BS, BH, BD, BB, BY, BZ, BJ, BM, BT, BO, BQ, BA, BV, BR, IO, BN, BG, BF, BI, KH, CM, CA, CV, KY, CF, TD, CL, CN, CX, CC, CO, KM, CG, CD, CK, CR, CI, HR, CU, CW, DJ, DM, DO, EC, EG, SV, GQ, ER, ET, FK, FO, FJ, GF, PF, TF, GA, GM, GE, GH, GI, GR, GL, GD, GP, GU, GT, GG, GN, GW, GY, HT, HM, VA, HN, HK, IS, IN, ID, IR, IQ, IL, IT, JM, JP, JE, JO, KZ, KE, KI, KP, KR, KW, KG, LA, LB, LS, LR, LY, LI, LU, MO, MK, MG, MW, MY, MV, ML, MT, MH, MQ, MR, MU, YT, MX, FM, MD, MC, MN, ME, MS, MA, MZ, MM, NA, NR, NP, NL, NC, NZ, NI, NE, NG, NU, NF, MP, NO, OM, PK, PW, PS, PA, PG, PY, PE, PH, PN, PR, QA, RE, RU, RW, BL, SH, KN, LC, MF, PM, VC, WS, SM, ST, SA, SN, RS, SC, SL, SG, SX, SK, SB, SO, ZA, GS, SS, LK, SD, SR, SJ, SZ, CH, SY, TW, TJ, TZ, TH, TL, TG, TK, TO, TT, TN, TR, TM, TC, TV, UG, UA, AE, US, UM, UY, UZ, VU, VN, VG, VI, WF, EH, YE, ZM, ZW,
2 Character Country codes complete list
Name, Code
Afghanistan, AF, Albania, AL, Algeria, DZ, American Samoa, AS, Andorra, AD, Angola, AO, Anguilla, AI, Antarctica, AQ, Antigua and Barbuda, AG, Argentina, AR, Armenia, AM, Aruba, AW, Australia, AU, Austria, AT, Azerbaijan, AZ, Bahamas, BS, Bahrain, BH, Bangladesh, BD, Barbados, BB, Belarus, BY, Belgium, BE, Belize, BZ, Benin, BJ, Bermuda, BM, Bhutan, BT, "Bolivia, Plurinational State of", BO, "Bonaire, Sint Eustatius and Saba", BQ, Bosnia and Herzegovina, BA, Botswana,BW, Bouvet Island, BV, Brazil, BR, British Indian Ocean Territory, IO, Brunei Darussalam, BN, Bulgaria, BG, Burkina Faso, BF, Burundi, BI, Cambodia, KH, Cameroon, CM, Canada, CA, Cape Verde, CV, Cayman Islands, KY, Central African Republic, CF, Chad, TD, Chile, CL, China, CN, Christmas Island, CX, Cocos (Keeling) Islands, CC, Colombia, CO, Comoros, KM, Congo, CG, "Congo, the Democratic Republic of the", CD, Cook Islands, CK, Costa Rica, CR, Côte d'Ivoire, CI, Croatia, HR, Cuba, CU, Curaçao, CW, Cyprus, CY, Czech Republic, CZ, Denmark, DK, Djibouti, DJ, Dominica, DM, Dominican Republic, DO, Ecuador, EC, Egypt, EG, El Salvador, SV, Equatorial Guinea, GQ, Eritrea, ER, Estonia, EE, Ethiopia, ET, Falkland Islands (Malvinas), FK, Faroe Islands, FO, Fiji, FJ, Finland, FI, France, FR, French Guiana, GF, French Polynesia, PF, French Southern Territories, TF, Gabon, GA, Gambia, GM, Georgia, GE, Germany, DE, Ghana, GH, Gibraltar, GI, Greece, GR, Greenland, GL, Grenada, GD, Guadeloupe, GP, Guam, GU, Guatemala, GT, Guernsey, GG, Guinea, GN, Guinea-Bissau, GW, Guyana, GY, Haiti, HT, Heard Island and McDonald Islands, HM, Holy See (Vatican City State), VA, Honduras, HN, Hong Kong, HK, Hungary, HU, Iceland, IS, India, IN, Indonesia, ID, "Iran, Islamic Republic of", IR, Iraq, IQ, Ireland, IE, Isle of Man, IM, Israel, IL, Italy, IT, Jamaica, JM, Japan, JP, Jersey, JE, Jordan, JO, Kazakhstan, KZ, Kenya, KE, Kiribati, KI, "Korea, Democratic People's Republic of", KP, "Korea, Republic of", KR, Kuwait, KW, Kyrgyzstan, KG, Lao People's Democratic Republic, LA, Latvia, LV, Lebanon, LB, Lesotho, LS, Liberia, LR, Libya, LY, Liechtenstein, LI, Lithuania, LT, Luxembourg, LU, Macao, MO, "Macedonia, the Former Yugoslav Republic of", MK, Madagascar, MG, Malawi, MW, Malaysia, MY, Maldives, MV, Mali, ML, Malta, MT, Marshall Islands, MH, Martinique, MQ, Mauritania, MR, Mauritius, MU, Mayotte, YT, Mexico, MX, "Micronesia, Federated States of", FM, "Moldova, Republic of", MD, Monaco, MC, Mongolia, MN, Montenegro, ME, Montserrat, MS, Morocco, MA, Mozambique, MZ, Myanmar, MM, Namibia, NA, Nauru, NR, Nepal, NP, Netherlands, NL, New Caledonia, NC, New Zealand, NZ, Nicaragua, NI, Niger, NE, Nigeria, NG, Niue, NU, Norfolk Island, NF, Northern Mariana Islands, MP, Norway, NO, Oman, OM, Pakistan, PK, Palau, PW, "Palestine, State of", PS, Panama, PA, Papua New Guinea, PG, Paraguay, PY, Peru, PE, Philippines, PH, Pitcairn, PN, Poland, PL, Portugal, PT, Puerto Rico, PR, Qatar, QA, Réunion, RE, Romania, RO, Russian Federation, RU, Rwanda, RW, Saint Barthélemy, BL, "Saint Helena, Ascension and Tristan da Cunha", SH, Saint Kitts and Nevis, KN, Saint Lucia, LC, Saint Martin (French part), MF, Saint Pierre and Miquelon, PM, Saint Vincent and the Grenadines, VC, Samoa, WS, San Marino, SM, Sao Tome and Principe, ST, Saudi Arabia, SA, Senegal, SN, Serbia, RS, Seychelles, SC, Sierra Leone, SL, Singapore, SG, Sint Maarten (Dutch part), SX, Slovakia, SK, Slovenia, SI, Solomon Islands, SB, Somalia, SO, South Africa, ZA, South Georgia and the South Sandwich Islands, GS, South Sudan, SS, Spain, ES, Sri Lanka, LK, Sudan, SD, Suriname, SR, Svalbard and Jan Mayen, SJ, Swaziland, SZ, Sweden, SE, Switzerland, CH, Syrian Arab Republic, SY, "Taiwan, Province of China", TW, Tajikistan, TJ, "Tanzania, United Republic of", TZ, Thailand, TH, Timor-Leste, TL, Togo, TG, Tokelau, TK, Tonga, TO, Trinidad and Tobago, TT, Tunisia, TN, Turkey, TR, Turkmenistan, TM, Turks and Caicos Islands, TC, Tuvalu, TV, Uganda, UG, Ukraine, UA, United Arab Emirates, AE, United Kingdom, GB, United States, US, United States Minor Outlying Islands, UM, Uruguay, UY, Uzbekistan, UZ, Vanuatu, VU, "Venezuela, Bolivarian Republic of", VE, Viet Nam, VN, "Virgin Islands, British", VG, "Virgin Islands, U.S.", VI, Wallis and Futuna, WF, Western Sahara, EH, Yemen, YE, Zambia, ZM, Zimbabwe, ZW
Postcodes of Scottish Highlands & Islands
HS1*, HS2*, HS3*, HS4*, HS5*, HS6*, HS7*, HS8*, HS9*, IV1*, IV2*, IV3*, IV10*, IV11*, IV12*, IV13*, IV14*, IV15*, IV16*, IV17*, IV18*, IV19*, IV20*, IV21*, IV22*, IV23*, IV24*, IV25*, IV26*, IV27*, IV28*, IV29*, IV30*, IV31*, IV32*, IV36*, IV40*, IV41*, IV42*, IV43*, IV44*, IV45*, IV46*, IV47*, IV48*, IV49*,    IV50*, IV51*, IV52*, IV53*, IV54*, IV55*, IV56*, KA27*, KA28*, KW1*, KW2*, KW3*, KW5*, KW6*, KW7*, KW8*, KW9*, KW10*, KW11*, KW12*, KW13*, KW14*, KW15*, KW16*, KW17*, PA20*, PA21*, PA22*, PA23*, PA24*, PA25*, PA26*, PA27*, PA28*, PA29*, PA30*, PA31*, PA32*, PA33*, PA34*, PA35*, PA36*, PA37*, PA38*, PA39*, PA40*, PA41*, PA42*, PA43*, PA44*, PA45*, PA46*, PA47*, PA48*, PA49*, PA60*, PA61*, PA62*, PA63*, PA64*, PA65*, PA66*, PA67*, PA68*, PA69*, PA70*, PA71*, PA72*, PA73*, PA74*, PA75*, PA76*, PA77*, PA78*, PH17*, PH18*, PH19*, PH20*, PH21*, PH22*, PH23*, PH24*, PH25*, PH26*, PH30*, PH31*, PH32*, PH33*, PH34*, PH35*, PH36*, PH37*, PH38*, PH39*, PH40*, PH41*, PH42*, PH43*, PH44*, PH49*, PH50*, ZE1*, ZE2*, ZE3*